The Nonprofit Marketing Tool Box
Tech companies such as Google and Salesforce.com understand the monumental undertaking that many 501(c)(3) NonProfits face when trying to increase awareness and manage the everyday tasks of running a NonProfit. Furthermore, when you put these two service offerings together, it creates an invaluable tool that all Nonprofits need to stay competitive. Here's what is offered:
Google Grants gives away $10k/month in Free Advertising within the Google.com search results.
Salesforce.org offers 10 Free Licenses valued at $150/each or $15k/year.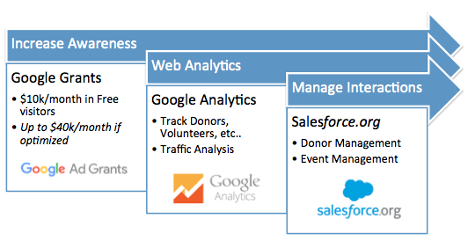 What Is Google Grants?
Google Grants is a unique one-of-a-kind advertising program which is designed specifically for 501(c)(3) Nonprofit organizations. The goal of this program is to utilize and transform the Google Adwords system into a powerful tool to spread advocacy, awareness, volunteer-ism and provide the ability to increase donations.
According to Google, "Google Grants has awarded AdWords advertising to hundreds of non-profit groups whose missions range from animal welfare to literacy, from supporting homeless children to promoting HIV education. Google Grant recipients use their award of free AdWords advertising on Google.com to raise awareness and increase traffic."
Who is Eligible for a Google Grant?
If you are within the United States, your organization MUST have a current 501(c)(3) status and registered through the Internal Revenue Service. Fiscally sponsored organizations are not eligible. If you are outside of the United States, you can view Google's List of International Charitable Organizations.
Who is NOT Eligible?
Organizations already participating in the Google AdSense program
Organizations that are either religious or political in nature
Organizations focused primarily on lobbying for political or policy change.
Important Note: Google reserves the right to award advertising to any organization.
Selections are made at Google's sole discretion, and decisions regarding
award recipients are final.
How does Google Grants Work?
If your organization is selected, Google will send you an award notification via
email with detailed instructions for setting up your account, and contact information
for a Google Grants specialist.
When your grant expires, your ads will no longer appear on Google.com.
You won't be able to log in to your AdWords account any longer, but you
can always open a new one if you'd like to continue advertising as a
paying customer.
If you decide to continue advertising, we can upload
the contents of your Google Grants account into your paid account.
It is recommended that if you are not a certified Google Adwords Professional, hire an experienced Non-Profit Search Marketing Agency to help you get the most out of your Google Grants Program
Common FAQs about Google Grants
The Grant/Award Value depends on overall performance of the campaign. Typical Avg Contribution is around $10k/month.
It has been noted that if you consistently spend more than $10k per month for at least three months, Google will increase your monthly allowance beyond the $10k/month.
Your maximum cost-per-click (CPC) will be $2.00 USD.
You'll receive $10,000 USD (up to $40,000 USD for Grantspro participants) of in-kind AdWords advertising each month.
Google creates the account for you and funds it directly.
Your Google Grants account is subject to the same algorithms and policies as a regular account.
Google Grants ads appear on Google.com, alongside or above the main search results.
Google Grants ads are not eligible for distribution in the Content or Placement Targeting Networks.
You can use Google Analytics with this Google Grants Program.
Your ads will be entirely text-based (no videos or images).
They'll appear only on Google search results pages.
All campaigns must be keyword-targeted.
What our NonProfit Client(s) are saying: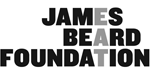 "The team is incredibly knowledgable, proactive, and great at communicating their expertise and getting results!"
– Alison Tozzi Liu, James Beard Foundation