If there was (1) one piece of advice I would give Startups (especially Early Stage), it would be diversification… and a lot of it. startups typically have very limited advertising budgets so they have to account for every penny they spend. In this article, I will explain the reasons for this diversification as well as how best to execute them on a limited budget.
Set Realistic Expectations:
As one of the most "bastardized" words in agency world, it's imperative to keep everyone's hopes and dreams in check with regard to the online marketplace. Attending conferences, reading case studies and talking with other business owners is not only a great idea, it's encouraged. however, it can also "set off" false expectations that could be devastating to the overall goals and objectives. I have advised clients (both past and present) to NEVER trust Google with their campaigns, keywords and budgets because they don't care about growing your business, they just want your money. Bottom line: If it sounds too good to be true, your instincts are correct!
Separate of Brand vs. Non-Brand:
It's simple math. It costs more money to reach consumers who DO NOT already know your brand. Over time, the brand takes "all of the credit" because that is how everyone searches for you. But, here's the catch. Getting to that phase in consumer behavior can be difficult to achieve, especially on the wallet. Here are a couple strategies that can not only help the wallet, but also the align the expectations.
Leverage Google Display, Mobile and YouTube Video networks

Low cost ($0.10 – $1.00 CPC/CPV).

More continuous visibility.

Expectations are set to branding only.

Utilize micro-targeting of Social media for specific audience testing

Target specific audience segments within a short period of time.

High volume allows for multi-variate ad testing.

Conversion tracking pixels allow for full analytics reporting.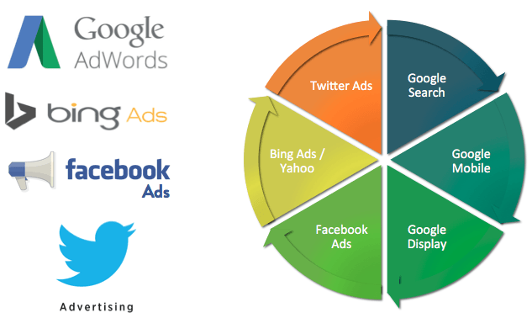 Monetize Everything
This may sound like a "no-brainer" to some of you, but startups tend to forget that measuring success is more than just placing an order or a form submission. Often, little things like email signups, chat sessions and phone calls eventually lead to "real" conversions later on in the buying cycle. It's important for everyone involved to consider these little conversions in the overall big picture. In some instances, these interactions act as a barometer when something is wrong or unclear and can help improve usability within the website experience.
In Conclusion:
Startups are faced with tough decisions when it comes to advertising due to their limited Ad budgets. They also cannot afford to, "bet the farm" on something that they heard at a conference or read in a case study. In 2016, consumers are everywhere (Google Search, Facebook Ads. YouTube. Twitter Ads, etc…) and startups need to leverage all of the platforms to maximize their exposure. They also need to understand that certain ad platforms serve different purposes as well as perform better than others.